Sapphire Hotel - The Little Tales of
Review by Gamesreup! 😺
Sapphire Hotel, is now available for the Dreamcast!🌀

Including fast loading, 60fps, VMU saves and save states!
-NOTE-
If you already own Sapphire Hotel, you get the Dreamcast version absolutely free! 😺
See full announcement post for more details,
https://itch.io/blog/520761/sapphire-hotel-the-little-tales-of-comes-to-dreamcast-
Or go straight to the download section!

Credits have been updated.

Physical Cartridges Available! 😺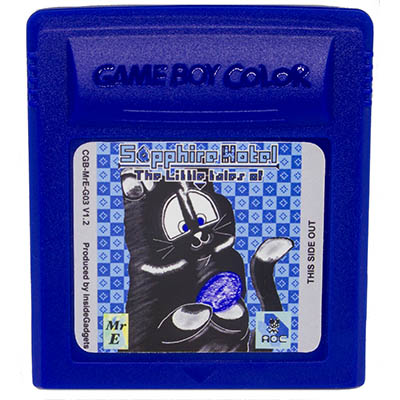 Sapphire Hotel Is now available on Cartridge, From the one and only inside gadgets! 😺
Featuring a Beautiful Sapphire like Dark Blue Shell! 👾
Get yours here 😺
https://shop.insidegadgets.com/product/the-little-tales-of-sapphire-hotel

Description

The Hotel is now open!

Explore every room interacting with all whom stays. Unveil the mystery of who stole the cat's-eye Sapphire. In this unique story driven blue world! Available for Gameboy Color and the Analogue Pocket!

Introduction
Welcome to sapphire hotel. The stand alone sequel to Alexandra With redefined interactivity, and massively improved graphics.

Features
. Immersive environments

. Refined interactivity system

. Interesting and unique characters

. More then 3 times the content of Alexandria

. Over 2800 worlds of dialogue
. Unique humour

. A breathing world
. Even more Cats than ever before!
. Easter eggs
. Lots of secrets to find!

Explore and interact!
With a redefined system over the first game. Interacting with objects and scenes is even more enjoyable.

Art style
Stylised with multiple variance of blue to bring out the feel of the hotel.

The Hotel
Visit this blue hotel with its many floors and visitors. You might even find something hidden!

Cats!

The cats run the hotel! Having been past down of generations of meows, the cats know what they're doing. Don't forget to save at Meow Stations! To keep your progress!

Movement and Controls
Up, down, left and right for directional walking!
A, for confirm.
B, for back.
Start, for enter

Systems
Download includes for multiple platforms.
Made for the Gameboy Colour, Forward compatible with: Advance, SP and Super Gameboy 1/2!
Also, Backwards compatible with the original Gameboy, pocket and light.
Supporting flashcarts and your favourite emulator or emulation device!
Got a Analogue pocket? Play on there! With the .pocket game file!
File types
Gameboy:
.gb file
Analogue pocket:
.pocket file
MBC versions:
Use this one for General use!

(MBC5, Normal, Default)
These, are for self made carts.
(MBC3, Batteryless)
(MBC3, Normal)
(MBC5, Batteryless)
Tested on original hardware! And complete!

Credits
GB studio engine
https://chrismaltby.itch.io/gb-studio

Me 🐱
RubenRetro (Gbstudio boot logo)
https://rubenretro.itch.io/gbstudio-logo

Beatscribe (Main music track)
Special thanks
SantiagoCrespo
https://santiagocrespo.itch.io/

My family and all the meows out there! 😺
Dreamcast port:
Auto Porter, Made by Ian Micheal
https://youtube.com/@IanMicheal
DCGNUboy, Made by Takayama Fumihiko

Demo Available! 😺
Try, before you buy!
You can now play up to the first floor, in the newly released Sapphire Hotel Demo! 😺
Available free to download, from the download section.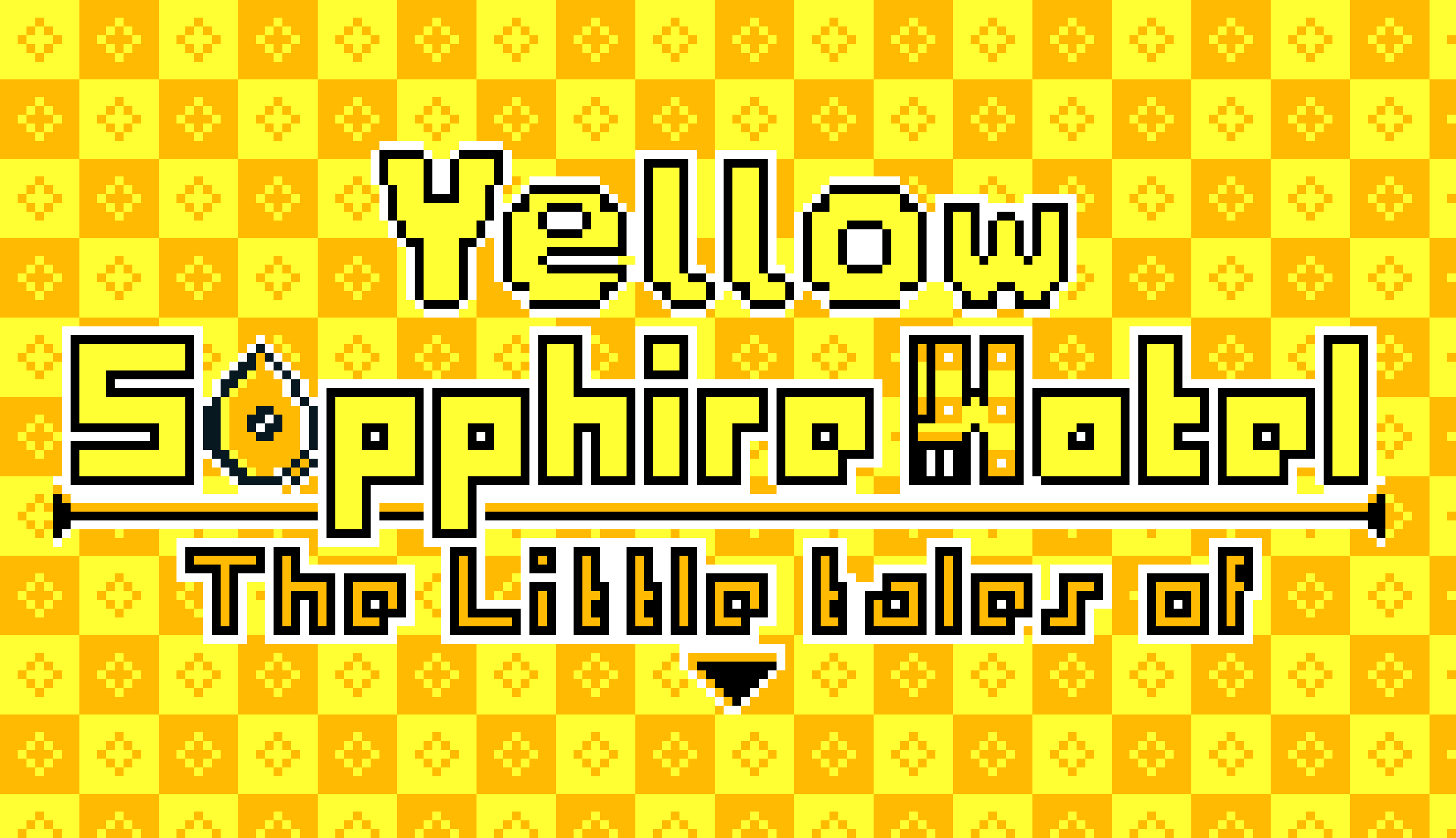 Yellow Sapphire Hotel
Yellow Sapphire Hotel is the other version of this game, unique in its own way you will find many differences! 😺
https://authormre.itch.io/yellow-sapphire-hotel-the-little-tales-of

The First Game
Alexandria is the first game in the series, but can be played in any order you like!
https://authormre.itch.io/the-little-tales-of-alexandria
Social media and contact info

Twitter: https://mobile.twitter.com/authormre
Email: AuthorMrE@email.com
YouTube: https://youtube.com/@MrEdev
Dev note

Hello! With this next game i wanted to improve everything from the graphics to the storytelling. I believe I have achieved this, with much much more time in development I think it really shows.
We have lots of amazing people from the Gameboy hombrew scene involved in this game. The developer of the fun game, Panty Hunty for the boot screen ,RetroRuben! And a amazing music track from the one and only musician, Beatscribe! and more!
AOC
This game has AOC Integrated. Please see this link to find out more :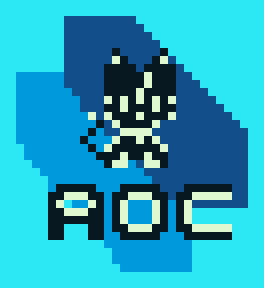 | | |
| --- | --- |
| Updated | 19 days ago |
| Status | Released |
| Release date | Feb 07, 2023 |
| Author | MrE |
| Genre | Adventure |
| Made with | GB Studio |
| Tags | aoc, Atmospheric, blue, Cats, Colorful, Game Boy, Pixel Art, Retro, Singleplayer, storygame |
| Average session | A few minutes |
| Languages | English |
| Inputs | Keyboard, Xbox controller, Gamepad (any), Playstation controller |
Purchase
In order to download this game you must purchase it at or above the minimum price of $2.99 USD. You will get access to the following files:
Sapphire Hotel - The Little Tales of V1.2 (MBC5, Normal, Default).gb
256 kB
Sapphire Hotel - The Little Tales of V1.2 (MBC5, Batteryless).gb
256 kB
Sapphire Hotel - The Little Tales of V1.2 (MBC3, Normal).gb
256 kB
Sapphire Hotel - The Little Tales of V1.2 (MBC3, Batteryless).gb
256 kB
Sapphire Hotel - The Little Tales of V1.2 (Pocket).pocket
256 kB
Sapphire Hotel - The Little Tales of (Dreamcast Version).cdi
4 MB
Download demo
Comments
Log in with itch.io to leave a comment.
I made a short review in spanish about this awesome game :3
Hello! Your game is meowtastic! I work with videogame translation and I want to work with you. You can read more about it here. :3
- With love, Alex